You Can't Be Too Careful! (Hardcover)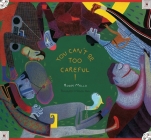 Email or call for price (407) 335-4192 or info@writersblockbookstore.com
Description
---
The White Rose is guarded closely by the gardener, who once caught a cold walking barefoot trying to find his shoes, which had been hidden by a cat, which was a gift from his younger brother, who was married to Dalva, who had inherited the cat from her uncle, who died of a broken heart awaiting a love letter that never arrived... Eventually, we see how one tiny action can have marvelous consequences, and the story turns like a ferris wheel. With a playful lightness of touch, Mello explores serious questions about the importance of kindness and the dangers of greed. Mello's illustrations will inspire his young readers, providing them with familiar and approachable images while encouraging imagination to fill in the narrative gaps, as he captures the mysteries of childhood through rich, vibrant imagery.
About the Author
---
   • Winner of the 2014 Hans Christian Andersen Award, ROGER MELLO has illustrated over 100 titles--22 of which he also wrote--and his unique style and adroit sense of color continues to push the boundaries of children's book illustration. Mello has dedicated his life to exploring the history and culture of Brazil through children's illustrated stories. Rather than relying on written narrative to tell the story, he invites his young readers to fill the gaps with imagination. Mello has won numerous awards for writing and illustratating, including three Brazilian section of IBBY's Luís Jardim Awards, nine Concours Best Illustration Awards, and the Best Children's Book 2002 International Award for Meninos do mangue.
   • DANIEL HAHN (translator) is the author of a number of works of non-fiction, including the The Tower Menagerie. He is one of the editors of The Ultimate Book Guide, a series of reading guides for children and teenagers. His translation of The Book of Chameleons by José Eduardo Agualusa won the Independent Foreign Fiction Prize in 2007. He has translated the work of JPhilippe Claudel, María Dueñas, José Saramago, Eduardo Halfon, and others. He is currently national programme director of the British Centre for Literary Translation.
Praise For…
---
"Elegant linework mixes with torn paper and soft, textured colors as a parade of luminous, exotic caricatures and their accoutrements unfold against a white backdrop; the effect is magical. The interactions probe issues around wealth, possession, and compassion. Mello's plot is made all the more mind-boggling with framing and intermediary scenes that are either voiced by an unreliable narrator or require fresh listening and looking. Complex and provocative." — Kirkus Reviews (Starred Review)

"[S]tunning works that will stir the imagination and peak the curiosity of young and old readers alike ... a marvel of art, story, and imagination." — The Gazette (Iowa)

"You Can't Be Too Careful! is a study of the interconnectedness of life, and it does so in spectacular fashion. Roger Mello's illustrations are a combination of complex colored-pencil drawings and torn paper, creating otherworldly spreads that immediately pull you in. Each illustration is perfectly paired with just enough text to prime your imagination." — Jessica Harrison, Cracking the Cover

"Unapologetically colorful, almost Carnaval-like, and filled with all sorts of wonderful people, creatures, and places. Even the covers are works of art in their own right." -- Literary Vittles

"For the past 20 years, [Mello] has colored his way into the imaginations of children across this outsize country, turning tropical plants and beasts into mythical idylls, while reviving forgotten folklore." -- Vocativ

"Mello's striking use of color and intricate design captivates his viewers and leaves them thinking about his images long after viewing them. It is impossible to glance briefly at Mello's art; each viewing of his intricate and colorful works brings to the surface different viewing experiences, and he has a knack for drawing his readers/viewers into his images. [Mello] is passionate about storytelling, and he does not underestimate the developing understandings of children. He avoids heavy didactic or moralizing overtones, and instead encourages his readers to draw their own conclusion based on the images and narrative at hand." -- Samantha Christensen

"Complex and dizzying, You Can't Be Too Careful! features a vast set of characters whose actions and inactions are all tightly knit together. The book is a dramatic lesson in logic and consequence. A love letter gets lost because of a man's ridiculous mustache; a man who's on the verge of death lives—because his monkey ran away from the circus, because the world fell on the floor. See what I mean?" — Quartz