Boyogi: How a Wounded Family Learned to Heal (Hardcover)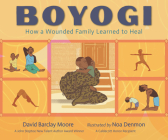 Description
---
When his daddy comes home from the service struggling with PTSD, a young boy discovers that learning yoga together can be a source of healing.

Ever since Daddy returned from the war, he's been different. At first, Butta Bean thinks it's his fault—that maybe his daddy doesn't love him anymore. But Mama explains that Daddy's mind is hurt from things that happened while he was away. When Mama takes them all to yoga class at their local YMCA, Daddy doesn't want to go at first, and Butta Bean thinks it looks weird. But as Daddy and Butta Bean get better at the yoga poses (Daddy says he's a real boyogi), Butta Bean starts to see a change in Daddy. He seems more and more like his old self. In a picture book gently tuned to a child's understanding, award-winning author David Barclay Moore and Caldecott Honor recipient Noa Denmon celebrate the transformative power of yoga, therapy, and abiding love for your family.
About the Author
---
David Barclay Moore is an author and filmmaker. His debut novel, The Stars Beneath Our Feet, was a Coretta Scott King—John Steptoe New Talent Author Award winner, a Time Magazine Top Ten Children's Book of the Year, and a New York Times Book Review Notable Children's Book of the Year. His picture book debut, Carrimebac, was illustrated by John Holyfield. Born and raised in Missouri, he has done work with Sony, Harlem Children's Zone, and Quality Services for the Autism Community. David Barclay Moore is based in Brooklyn.

Noa Denmon is an award-winning illustrator who has worked with the New York Times and Google, among others. Her picture book debut, A Place Inside of Me: A Poem to Heal the Heart by Zetta Elliott, won a Caldecott Honor in 2020. Noa Denmon lives in Pittsburgh.