Ten on a Twig (Board book)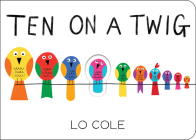 $8.99

Available for Immediate Order
Description
---
Count down from ten like never before with this uniquely beautiful interactive board book for fans of Eric Carle books! Perfect for toddlers, preschoolers, and early readers who are learning numbers and learning how to count, or for anyone who wants a great bedtime book.
Ten on a twig, just passing time... One falls off, and then there are nine.
Watch the birds fall as the pages turn in this interactive picture book from the publisher of the Don't Push the Button series! In this charming, deceptively simple counting book, ten birds sit on a twig. As each falls off, they take a piece of the twig with them, and in the end, they have a new home—just in time to say goodnight. This delightful, fun read is great for bedtime or playtime. The cleverly die-cut pages are great for anyone who loves the format of A Very Hungry Caterpillar and will delight young readers. Counting down introduces the concept of subtraction in a natural way, and the varying lengths of the pages means the birds disappear off the twig as you turn the page.
Children learning how to count will be mesmerized by the actions that happen with the page turns. It encourages repetition and rereads, and is sure to help many kids remember their numbers as they laugh along the way. Parents who want Montessori toys for toddlers will appreciate this tactile and repetitive approach to learning numbers, paired with simple, bold and cute art that looks great in any home. And the strong pages, perfect for grabby little hands, makes this a great next step up from board books for babies.
"In much the same way Eric Carle utilizes the pages in The Very Hungry Caterpillar to show the little critter eating its way through the week, Cole uses pages of increasing width to show how the twig grows shorter as each bird falls and marches off purposefully with the others. Stylistically, the book is captivating. Sure to delight readers. Who knew that turning the pages could be the best part of a book?"—Kirkus Reviews
Perfect for anyone who wants:
Homeschool material for preschoolers working on their numbers or who need math picture books
Unique and sweet bedtime books for toddlers
Stylish baby shower gifts and gifts for kids birthdays
Animal books for kids or children's bird books
Montessori materials for preschool
About the Author
---
Lo Cole is a British illustrator and author, his imaginative artwork has featured on posters, album covers, in books, magazines and newspapers. Currently, he is a weekly contributor to The Guardian and The Economist. Lo lives and works by the banks of the River Severn in Gloucestershire, UK—a great place for fishing for ideas, pondering over rhymes and ... taking the dog for a walk.